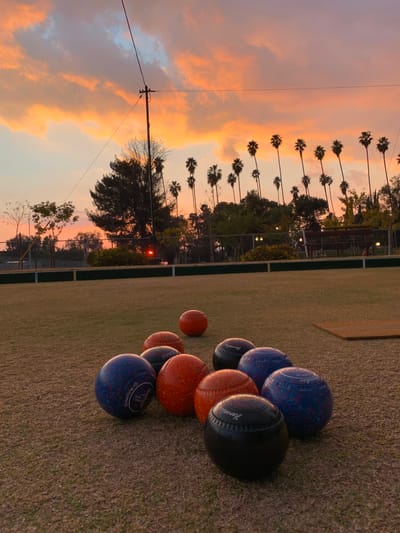 Year-Round Outdoor Fun - Redlands Lawn Bowling

If you are looking for a fun, low impact, challenging, outdoor sport, we would like to invite you to explore lawn bowling with the Redlands Lawn Bowling Club. Adults of any age are welcome to join us Monday, Wednesday, and Saturday morning from 9:15 to 12:00 and Monday, Wednesday, and Saturday evening at 6:15. During Summer (July to September, we start the morning bowling at 9:00 am with check-in at 8:45, and evening bowling at 7 pm, check-in by 6:45 pm). The first few weeks are free, but members pay yearly fees. We have loaner bowls available for beginners, but you may want to purchase your own bowls, used or new, in time.

Lawn bowls are weighted on one side and are not completely round, making each roll on the green unique. Lawn bowling is an international sport with highly competitive events for qualified bowlers, but all ability levels are welcomed and encouraged at the Redlands Club.

We encourage all new bowlers to meet with a coach for free lessons prior to joining in games. This will enhance your enjoyment and understanding of the sport. You can call the club on bowling days between 9:00 and 9:30 to arrange for lessons. Our number is 909-792-4874.

Although there is no formal dress requirement, you must wear smooth, flat-soled shoes on the green. Hats, sunglasses, and sunscreen are strongly recommended. At this time due to covid restrictions, we also practice social distancing and require players to wear a mask.

The Redlands Lawn Bowling Club is located in Sylvan Park at 411 N. University Street across the street from the University of Redlands Theater. We have a private parking lot and street parking as well. If you are in the area, please stop by and check us out, or call the club at 909-792-4874 if you have questions.